Unlock Peace of Mind with INFINITI's Pre-Paid Scheduled Maintenance Plan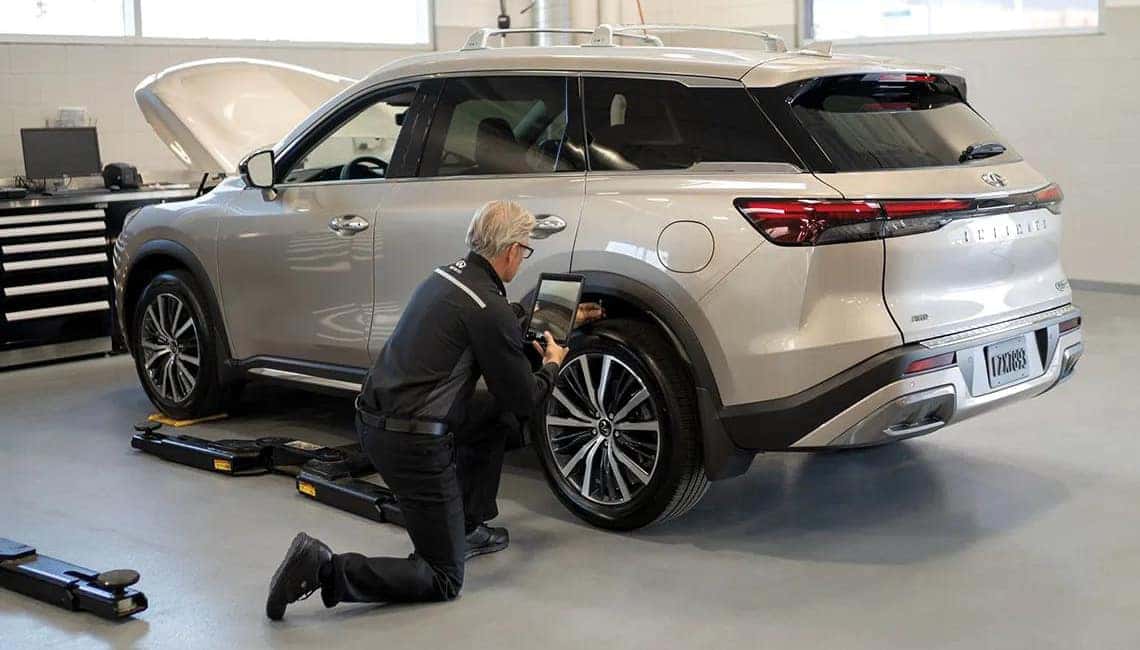 Preserving the performance, safety, and value of your INFINITI vehicle is now easier than ever before. New INFINITI vehicles offer added peace of mind and make your life easier with impressive Pre-Paid Maintenance Plans, your comprehensive solution to ensuring your INFINITI car or sport utility vehicle remains in peak condition for years to come. Here we take a look at what is included in your Pre-Paid Maintenance Plan and the benefits it offers.
A Comprehensive Maintenance Solution
The Pre-Paid Maintenance Plan includes all of the services and inspections recommended by the manufacturer at intervals specified in your vehicle's Owner's Manual. These include but are not limited to:
Oil & filter changes
Air & cabin filter changes
Brake fluid changes
Tire rotation or seasonal tire changeover*
Additional inspections for drivetrain & transmission components, brake systems, engine belts, steering and suspension, fuel systems, and others as per your Owner's Manual.
*The seasonal tire changeover is applicable for transitioning from all season/summer tires to winter tires and vice versa, provided that both sets of tires are mounted on separate wheels.
Prepaid Maintenance Plans: A Wise Investment
INFINITI's Pre-Paid Maintenance plans ensure your vehicle is always road-ready for your next journey. These plans come in various coverages and durations to cater to your specific needs and budget. What's more, the longer the plan, the greater the savings.
Prepaying for maintenance services offers significant financial benefits compared to paying for services individually. Over time, these savings increase. Adding to this convenience, you can include your maintenance plan in your monthly vehicle payments.
Enhancing Your Warranty Protection
Adhering to manufacturer-specified maintenance using INFINITI Genuine Parts can keep your factory warranty valid. Whether you purchase or lease, our maintenance plan helps preserve your vehicle's warranty protection, ensuring you can enjoy worry-free drives for the long haul.
INFINITI's Commitment: Genuine Service, Genuine Parts
Your INFINITI vehicle will be serviced by our factory-trained technicians, using only approved methods and Genuine INFINITI Parts. This meticulous attention to detail guarantees the highest level of care for your vehicle.
Additionally, we offer the INFINITI Oil Change and Tire Rotation Plan. This plan covers oil & filter changes using INFINITI Genuine Synthetic Oil as well as tire rotation or seasonal tire changeover, performed in accordance with your model's Owner's Manual.
Choose INFINITI's maintenance plans and drive with complete confidence, knowing that your vehicle's performance and value are well-preserved.